| Item ID | Starting Bid | Bids | Current Bid |
| --- | --- | --- | --- |
| 66404 | $250.00 | 2 | $260.00 |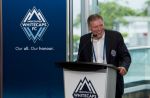 Are you hosting a corporate event? Bid on this exclusive opportunity to have Whitecaps FC President Bob Lenarduzzi to visit to your office and give a 45 minute presentation (30 minute presentation and a 15 minute question and answer period). This address will focus on teamwork, leadership, and community engagement within the workplace.
Bob Lenarduzzi has been a Vancouver sports icon for over two decades, involved in the sport of soccer as a player, coach, and general manager and representative of Canada at World Cup and Olympic levels. Lenarduzzi has been inducted into the Soccer Hall of Fame, United Soccer League's Hall of Fame, the North American Soccer Hall of Fame and the BC Sports Hall of Fame. He is also a recipient of the Order of British Columbia.
Please note that the presentation space/office must be located within Greater Vancouver. The club will work with the corporation to determine the date and time of the presentation as per Whitecaps FC's availability within the 2016 MLS regular season. Whitecaps FC is not responsible for covering any costs associated with the event, including but not limited to venue rental fees, food and beverage, event permits, parking, etc.
Item Added: Tue Apr 26, 2016 11:17 AM